Date(s):
Monday, May 5
Time:
9:00 am - 4:00 pm
Location:
: Abbotsford Campus
---
Stude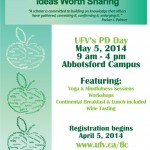 nt Engagement, Critical Thinking, and Writing: Ideas Worth Sharing
Mon, May 5
9 am-4 pm
Abbotsford campus
Featuring:
Morning yoga & mindfulness sessions
Workshops (lots of variety)
Continental breakfast & lunch
Afternoon wine tasting
All faculty and staff are welcome to attend.
Registration begins April 5, 2014.
For more information, contact Ruby Ord at ruby_ord@live.ca
Sponsored by UFV's Teaching and Learning Centre.

Map Unavailable
UFV's Professional Development Day
Date(s):
Monday, May 5
Time:
9:00 am - 4:00 pm
Event Categories
Share
iCal
webcal