Date(s):
Wednesday, March 15
Time:
5:00 pm - 7:00 pm
Location:
: Abbotsford Campus
---
Boycott Divest Sanction (BDS) Panel Discussion
Wednesday 15 March, 5:00 — 7:00 p.m., Room B121 Abbotsford Campus
Members of the faculty, staff, and student body will have an opportunity to learn about the controversial Boycott Divest Sanctions (BDS) movement at this panel discussion. It is sponsored by the Department of Political Science.
The BDS Movement is a global campaign organised by Palestinian non-government organisations that seeks to apply economic and political pressure on Israel until it complies with international law. In February 2015 the House of Commons passed a motion declaring that the BDS movement demonizes and delegitimizes the State of Israel and condemning any Canadian groups or individuals that promote it.
"The principled use of boycotts, sanctions, and divestment has a long history of success in peacefully bringing about needed change," said Ron Dart, professor of political science at UFV and one of the organisers of the event. "Hundreds of thousands of Canadians support a boycott of some sort against Israel, and yet the movement remains deeply controversial. This event is an opportunity for a respectful exchange of ideas and viewpoints that we hope will lead to a better understanding of the issues. We encourage people to bring their questions."
Panel members include Sid Shniad, a founding member of Independent Jewish Voices, which supports BDS; Colter Louwerse, a fourth year political science major at UFV; and Avner Bachar, a UFV assistant professor who believes that BDS is an obstacle to peace and justice in the Middle East.
For more information, visit Facebook "Palestine Events UFV"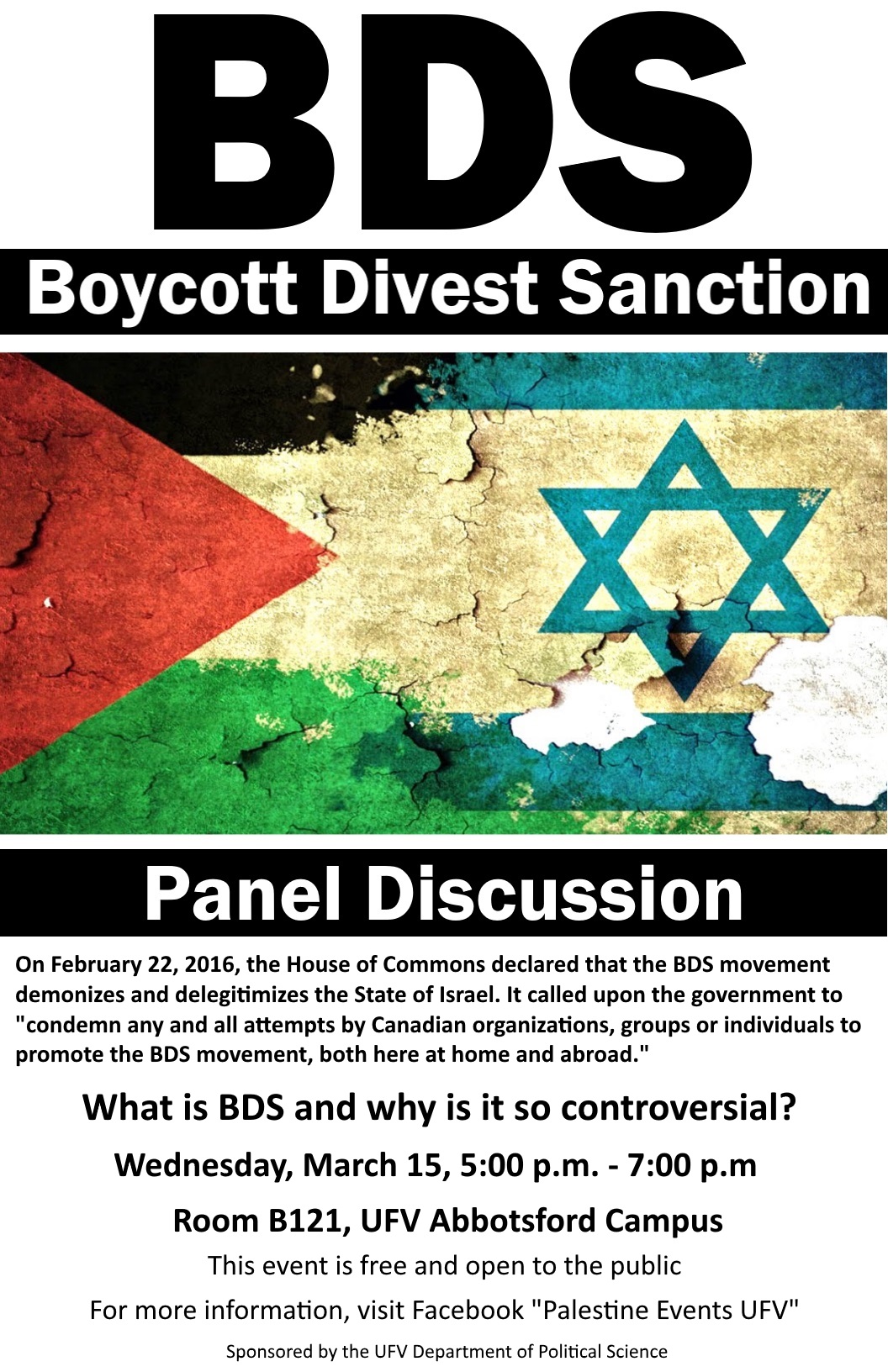 Map Unavailable
Boycott Divest Sanction (BDS) Panel Discussion
Date(s):
Wednesday, March 15
Time:
5:00 pm - 7:00 pm
Event Categories
Share