Date(s):
Saturday, November 26
Time:
9:00 am - 3:00 pm
Location:
: Abbotsford Campus
---
United Nations Day of Solidarity with Palestinians at University of the Fraser Valley
The plight of the Palestinian people will be explored at a day-long conference on Saturday, November 26, at the University of the Fraser Valley, Abbotsford campus. The event, which is free and open to the public, is sponsored by the Department of Political Science and the Peace and Conflict Studies program.
"Since 1948 millions of Palestinians have been forcibly dispossessed and denied fundamental human rights that we in Canada take for granted." said Ron Dart, an instructor in the political science department at UFV and one of the organisers of the conference. "Today millions live under harsh Israeli military occupation. This conference is a chance for Canadians of conscience to gather and learn more about the situation, listen to the stories of Palestinians, and explore how to work for justice and peace."
The keynote speakers are Cindy and Craig Corrie whose daughter, human rights activist Rachel Corrie, was crushed to death in 2003 by an Israeli military bulldozer as she tried to prevent the demolition of a Palestinian home in Gaza. Motivated by their daughter's example, the Corries established the Rachel Corrie Peace and Justice Foundation which supports peace and justice initiatives. The Corries are currently leading an interfaith delegation in the West Bank and Gaza. They will speak of their experiences.
Additional speakers include members of B.C.'s Palestinian community, a representative of Independent Jewish Voices, and local advocates for Palestinian rights.
The conference runs 9:00 a.m. – 3:00 p.m. in the university auditorium (B101). Attendees should bring a lunch as all food concessions on campus will be closed.
Cindy and Craig Corrie speak widely of their daughter's story and experiences as well as of their own connections to the people of Palestine and of the importance of advocacy for Palestinian human rights. The Rachel Corrie Foundation has received several awards for its work promoting human rights, including the Human Rights Advocate of the Year Award from Seattle University's Human Rights Network.
Additional sponsors of the conference include Canadian Friends of Sabeel, Independent Jewish Voices Vancouver, and United Network for Justice and Peace in Palestine and Israel.
For more information, visit Facebook "UFV Palestine conference"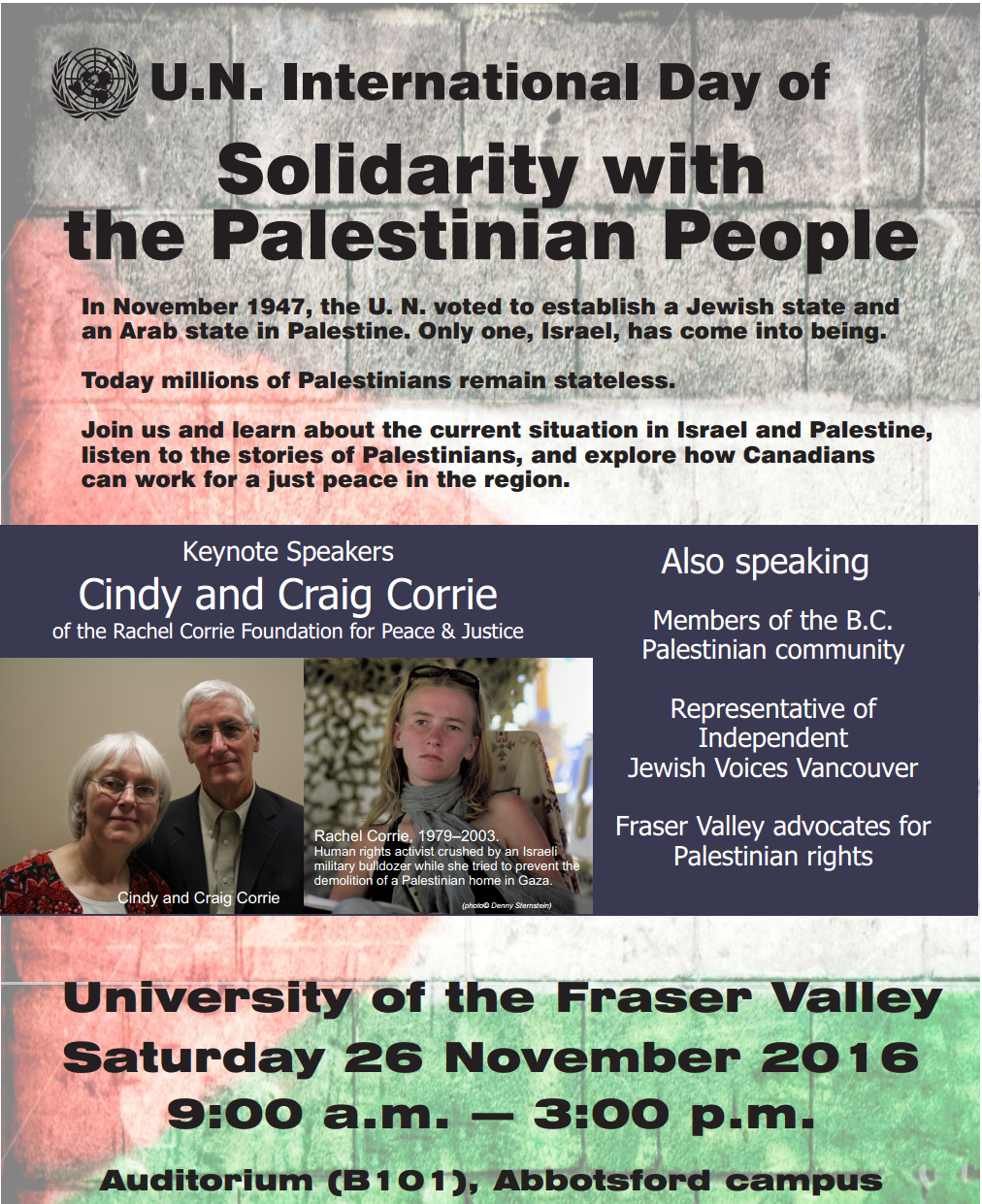 Map Unavailable
United Nations Day of Solidarity with Palestinians at University of the Fraser Valley
Date(s):
Saturday, November 26
Time:
9:00 am - 3:00 pm
Event Categories
Share
iCal
webcal